Employing Māori and Pacific peoples
How well are Māori and Pacific peoples represented in the New Zealand steel industry?
This was one of the questions we commissioned economic research agency Berl to answer as part of our focus on better understanding the social, cultural and economic sustainability of our industry.
As it turns out, the New Zealand steel industry is an important source of employment and career opportunities for Māori and Pacific peoples.
Here's a snapshot – and you can read the full report here
Overall employment representation
In 2018, Māori represented 13 percent and Pacific peoples represented 10 percent of the total New Zealand steel industry workforce. Compared to their total employment in New Zealand, Māori were relatively well represented in 2018 while Pacific peoples were relatively overrepresented in the steel industry. This was the case in the New Zealand steel industry in 2006 and 2013 too.
Regional growth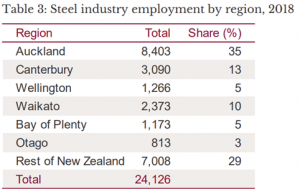 The industry has also become increasingly important as an employer in the regions. This is thanks significant growth of steel operations outside of Auckland, Canterbury, Wellington, Waikato, Bay of Plenty and Otago between 2006 and 2018, with the rest of New Zealand experiencing a 77 percent increase in steel industry employment during this time. This was reflected across all ethnicities.
Shift to high-skilled employment
Between 2006 and 2018, the growth of Māori in high-skilled occupations like managers and professionals within the New Zealand steel industry has grown exponentially. Most notably, between 2013 and 2018, there was significant increases in the number of Māori professionals, and a lesser, but still significant, increase of Māori managers.
Similarly, the number of Pacific people employed in high-skilled occupations increased, but even more-so than Māori. Between 2013 and 2018, the number of Pacific people who were employed as managers and professionals increased by 133 percent and 700 percent, respectively.
This shift to more high-skilled employment is greatly beneficial for the wider Māori and Pacific people's economy, as improved skilled labour can lead to great income opportunities for individuals.
Check out the full report and compelling data here 
---